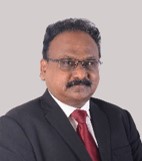 E.V. Johnson Neil
Director & Global Vice President
Johnson Neil is a Chartered Quantity Surveyor with eclectic knowledge gained from 34 years of experience in the construction industry, out of which 29 years were in the UAE. He is the Founder and Director of EbenJohnson Consultants, a cost and contract management consultancy practice, established in 2008.
Building on his Civil Engineering and Quantity Surveying qualifications from India, he has attained a Diploma in Surveying from the College of Estate Management, Reading, UK and a Post Graduate Degree in Construction Law and Arbitration from Robert Gordon University Aberdeen, UK.
He holds fellow memberships from Royal Institution of Chartered Surveyors –UK, Australian Institute of Quantity Surveyors -Australia, Chartered Institution of Arbitrators –the UK and Institution of Surveyors -India. He is a Director and Global Vice President of the Indian Institute of Quantity Surveyors –India and a Trustee of the International Ethics Standards Coalition –UK.
His expertise lies in quantity surveying, cost management, contract management, claims management, expert determination, and dispute resolution from being a part of numerous building and civil engineering projects.
With active involvement in training and professional development activities, he provides corporate training and workshops to several Clients on various commercial and contractual topics. He has been a guest speaker at seminars and workshops and has written several articles on professional ethics, quantity surveying and contract administration.
LLM, FRICS, FCIArb, FAIQS, FIS, FIIQS
Ethics, Rules of Conduct and Professionalism
• Importance of Ethics
• Role of professional institutions
• Professional and ethical standards
• Conflict of interest
• Rules of conduct–general principles
• Rules of conduct for members and firms
• Ethical case studies
Client Care
• Importance of client care
• Approaches to client care
• Identifying Client
• Maintaining good relationship
• Feedback and complaints
• Systems and procedures
• Briefing, Planning and Management